At Global Gold and Silver, most people sell gold, silver, and precious stones. But you can also sell watches! Global Gold and Silver accepts watches from brands like Rolex, Breightling, Cartier, along with luxury time pieces, gold and pocket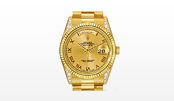 watches. We have five tips to selling your watch for cash:
Find out how much your item costs for the new fair market value
This can be difficult if you're selling a vintage piece, but you should do research on how much your item is currently selling for. This will help you gauge whether or not the offer you receive is accurate and fair when you do decide to sell your watch.  Our expert watch buyers have the knowledge required to identify the watch, confirm its authenticity, and determine its fair market value.
Take note
Before you run off to sell your watch, do some research on the watch itself. This is especially important if you're selling a vintage or high-end piece. When was it manufactured? Is it a limited edition? Has it been serviced in the time you've owned the watch? These are all important questions to research before you try and sell your watch. The answers to these questions will affect the price of your watch.
Get your watch appraised… Twice
Getting your watch appraised is always a good idea. But it's also best to get a second opinion so you know you're getting a

fair price. This will help guard against not receiving the full value for your watch. Global Gold and Silver has over 40 years experience in appraising, buying, and selling watches, and will always determine fair market value, but we always welcome customers finding a second opinion. We give each customer 10 days to accept or decline our offer.
Watch the market
If your watch is made of precious materials, particularly gold, you could consider waiting a short amount of time to see if the price of gold goes up. If it does, you'll end up getting a better price when you do sell your watch. Of course this also means that the price of gold could go down, so it's a risk, but it could be worth it.
Look at recent payouts
When choosing a buyer, look at the recent payouts for items similar to yours. This will allow you to get an idea of how much your buyer is willing to pay for your item. At Global Gold and Silver, we offer this service for free online. It features a picture of our recent payouts, a short description, and the price.
Once you've decided to sell your watch with Global Gold and Silver, you can either speak with a local watch buyer, or fill out our form for a fast appraisal. With free insured FedEx shipping with up to $25,000 insurance, you can be assured that not only are you getting the best deal when you sell your watch, but also the safest.
This post was written by Steven Madar